John Littel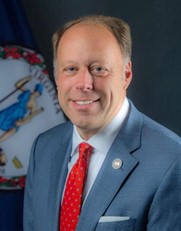 John Littel brings 30 years of public policy experience to the administration. John is a graduate of the University of Scranton and of Catholic University, School of Law. He has served as the President of Magellan of Virginia and Chief External Affairs Officer for Magellan Health.
Prior to joining Magellan, he served as Executive Vice President for External Affairs at Amerigroup Corporation, until that company was acquired by Anthem. While there, he launched the National Advisory Board for People with Disabilities. He then served as an Interim Senior Vice President of Government Affairs for Anthem. Previously, he has served at the federal and state government levels, including as the Deputy Secretary of Health and Human Resources for the Commonwealth of Virginia and as the Director of Intergovernmental Affairs for the White House's Office of National Drug Control Policy. He serves as chair of the Virginia Health Care Foundation and on the board of The Gloucester Institute, a leadership initiative for young African-Americans.
In 2012, he was appointed to the Board of Visitors of the College of William & Mary and has served as rector and chair of the Executive Committee since 2018. John previously served on the boards of the Family and Children's Trust Fund, Virginia's family violence prevention agency, and ForKids, a program for homeless families in Hampton Roads. A former rower, John is active as a licensed referee for US Rowing. He lives in Virginia Beach with his wife Marianne and three adult children.
Contact Us
For regular U.S. mail, please use the following address:
Office of the Secretary of Health and Human Resources
P.O. Box 1475
Richmond, VA 23218
Phone Numbers:
(804) 786-7765
Fax Line: (804) 786-3389

Email: HealthAndHumanResources@governor.virginia.gov
Street Address:
Patrick Henry Building
1111 East Broad Street
Richmond, VA 23219
Enter your starting address for driving directions:
(example:1 Smith Place, Sterling, VA)