Right Help. Right Now. Behavioral Health Transformation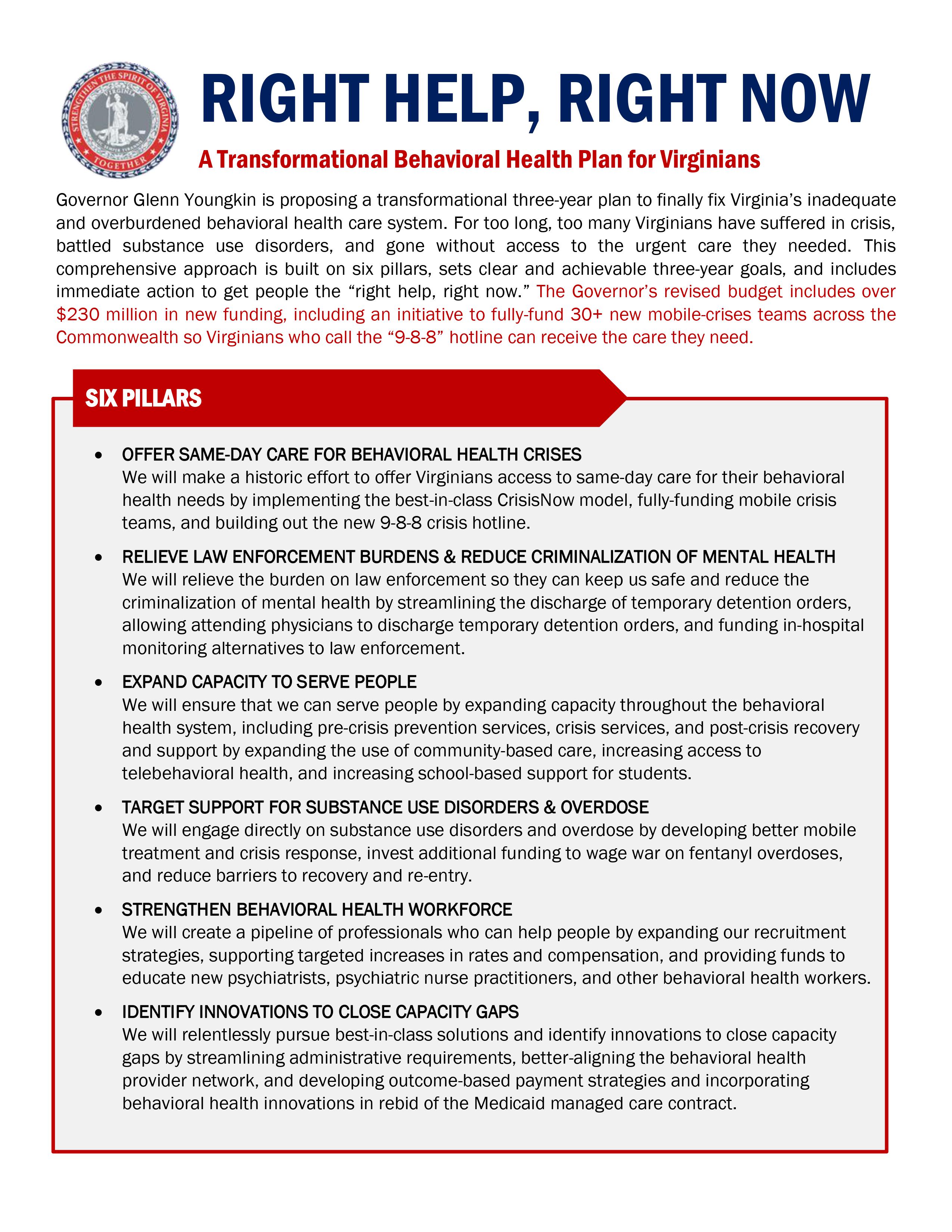 Additional Resources
Mental Health
Virginia's 40 Community Service Boards (CSBs) and Behavioral Health Authorities provide community-based behavioral health and developmental disability services to individuals in their communities, including 24 hour-a-day response to psychiatric emergencies; support for children, adults, and older adults with behavioral health and developmental disability service needs; residential, outpatient, employment, and day support service needs of individuals with severe mental illness; and much more.
If you or someone you now needs help, call/text or chat the 988 Lifeline. The Lifeline provides 24/7, free and confidential support for people in distress, prevention and crisis resources for you or your loved ones, and best practices for professionals in the United States. The Lifeline is a national network of local crisis centers that provides free and confidential emotional support to people in suicidal crisis or emotional distress 24 hours a day, 7 days a week in the United States.
Mental Health First Aid is an 8-hour course that teaches you how to identify, understand and respond to signs of mental illnesses and substance use disorders. The training gives you the skills you need to reach out and provide initial help and support to someone who may be developing a mental health or substance use problem or experiencing a crisis.
Substance Use Disorder
The opioid crisis is hitting the entire country — including Virginia. Awareness and education are two of the best defenses against opioid misuse and overdose. The journey away from opioid misuse starts one step at a time. If you or someone you love needs resources on prevention, treatment, and recovery, visit CurbTheCrisis.com.
One of the best ways you to learn about the use of naloxone and how you can save a life from an opioid overdose is through REVIVE! Training. REVIVE! provides training on how to recognize and respond to an opioid overdose emergency using naloxone.
The DEA's One Pill Can Kill campaign also has resources related specifically to fentanyl pills.